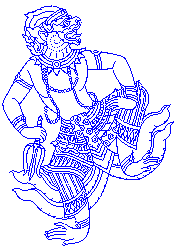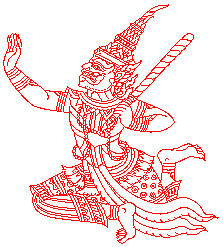 Thailand Times
Comments about the Kingdom
new
Bangkok What's it like (many pictures)
A new book, Bangkok Angel is out. Haven't read it but the advert contains this classic line...the pitfalls of house purchase in Thailand and the doubt of whether one is actually married or not so I figure it will be funny for sure.

Thai Links
Lets start this with the music of Carabao.
The most complete (for the moment :-) collection of useful Thai links is over at Ethailand. It's fairly new
Couple more links pages are Liveboard, mostly Text! and Hans' page at Thaistart still mostly Text.
We have a Thailand Search Engine which is sometimes useful but sometimes gives a lot of spurious hits. (Yahoo is better)
Nectec is the main start for technical stuff.
Yellow Pages and Business Directory
Exchange Rates - Bangkok Bank
This is the best asia weather map (click on satellite) Nice infrared. Not always current but great for checking storms. Yahoo weather is better, however, because its a Lot faster.
Bangkok
Stickman has useful information about Teaching, Living in Bangkok and Girls
Marcel has info on the fun places Bangkok nightlife starting at Nana
and Soi Cowboy has its own regulars.
Visa questions will find answers from Lars at ThaiVisa


Hilltribes
Chiang Mai
Pattaya
Phuket
and there is a web cam in Samui
There is another webcam but it only shows Bangkok traffic. Don't bother.

Newsgroups and mailing lists
aside from the often interesting soc.culture.thai
look at asfo for a good group of members who are married to or otherwise involved with asian females. Regular funny stories. Advice on what Not to do in Bangkok, Angeles, VN and Cambodia freely offered.
A rougher (sometimes less polite) crowd can be found on the bulletin board Here


Internet and Computers
For website hosting the best I've found is VWT. Fast, a variety of plans, very complete and a knowlegable Bangkok LOCAL! rep to talk to on the phone who replies to emails. Same people do unlimited everything here Altaway Thailand.

For a complete list of Thai based ISPs with prices see the Thai Internet Users group
They do testing and put out quality and service reports. Frequent updates.
If you're wondering what we pay for hardware over here in Bangkok then Bangkokcom is the place to look. Run by a very nice but crazy upgrade addict.
Pirated software CDs are 100-300 baht (less than $10 US). But these of course are only used for evaluation purposes for a short time (till next version comes out, usually :-). An (incomplete) list of what may be available is Here. Don't bother me (or them) with requests. Come to Bangkok if you want something.
Bangkok police recently seized 17,000 pirate CDs at the infamous Panthip Plaza. Rumors that these were actually old unsalable 100 baht versions and porno with ugly girls were vigorously denied.


News
If you need information on Thailand The Nation has a much better search engine than the Bangkok Post (hosted by Samart). Though I prefer the Post to sit down and read, and do be aware the Nation seems willing to print unconfirmed official rumors but the Post sticks to confirmed official rumors.
In the Post Database Dawson has some very, very funny comments in the world and local reviews.
" The insensitive, mainstream, Microsoft-dominated, PC-obsessed, anti-Apple press reported demeaningly from MacWorld in San Francisco that the iMac will now come in five new colours: red, purple, orange, green and original teal; the sensitive, caring, humanitarian media correctly reported the colours were strawberry, blueberry, tangerine, grape and lime..."
I get them Email every week.



An interesting aspect of English language news in Thailand the high quality it. Almost nothing is seen of local murders, horrific accidents, and the duller stuff of a city paper. The most tabloid aspect of either of them is the political coverage. Major police news is covered but they might as well put it on a page by itself like the sports. The real drama is in domestic and regional politics.
Timestamp: November 16, 1998
Back to the TOP
Home Page
Sanook - Thai fun
Hubble Deep Space Wallpaper